Pilot-ATC Comms Sim Overview
Features and Benefits
Learn on your terms
and at your pace
App-based
Interactive and self-guided learning
Task-based instruction
Experience ATC comms
outside of the cockpit
Over 90 airports and airspaces
Thousands of scenarios
All phases of VFR and IFR flight
Master critical and
invaluable aviation skills
Aviation phraseology
Communication procedures
Radiotelephony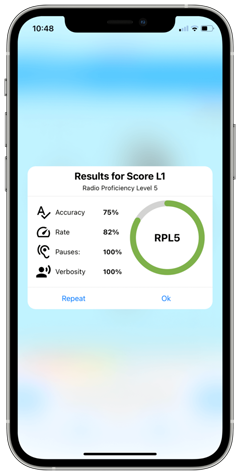 Build ATC comms
muscle memory
Phraseology corrections
Speech rate analysis
Radio proficiency scoring
"It's about time an app came along to help new pilots learn what CFIs expect students to learn by osmosis and to correct some bad habits."

– PlaneEnglish user
"This practice helps both in understanding what Air Traffic Control is trying to tell you and what you need to tell them. Radio comms is a highly choreographed exchange, and this app teaches you how to dance!"

– PlaneEnglish user
"I've made more progress in radio comms by using this app for 1 hour versus 15 hours of flying… In my last lesson my instructor commented on my improvement in comms!"

– PlaneEnglish user
"I started working through the lessons, and OMG it made such a huge difference! I went from a big ol' bundle of nerves to being able to listen and respond [to ATC] calmly…and even clarified with ATC when they told me the incorrect runway. Being able to practice with AI instead of a human took the pressure off and really calmed my anxiety! It also made the transition to real ATC even easier!"

– Kat P.
"In my 30 years of Air Force aircrew training experience, this may be the best application of technology I have seen for the express purpose of getting our students up to speed quickly in the aviation communication skills they will need to operate successfully in training."

– Retired Air Force pilot instructor
Pricing
12 Month Access
$4.99 per month
---
$59.99 billed once

6 Month Access
$6.67 per month
---
$39.99 billed once

1 Month Access
$9.99 per month
---
$9.99 billed once

12 Month Access
$6.67 per month
---
$79.99 billed once
6 Month Access
$8.33 per month
---
$49.99 billed once
1 Month Access
$13.99 per month
---
$13.99 billed once
12 Month Access
$7.99 per month
---
$95.99 billed once
6 Month Access
$10.83 per month
---
$64.99 billed once
1 Month Access
$15.99 per month
---
$15.99 billed once
Select your training institution from the list to access the agreed license and customized training content. Make sure to enter the the code provided by your training institution.

Contact us at service@PlaneEnglishSIM.com to find out about customization and licensing options for your institution
Select Your Training Institution
Subscribe to Our eNewsletter
About the Aviation Radio Simulator
Radio communication is an important part of aviation and a critical skill for safe flight. Training opportunities to learn and master aviation radio communication are few and expensive. Reading aviation phraseology manuals and radio procedures guidelines, or listening to other pilots talk on the radio is ineffective. Spending precious flight time learning or correcting radio communication for only limited exposure is unsustainable!

As pilots that have gone through the pain of acquiring this critical skill ourselves, we created PlaneEnglish – the app-based aviation radio simulator – as a solution to the lack of hands-on, in-flight experience for becoming radio proficient. Informed and guided by the FAA and ICAO English standards, phraseology, and radiotelephony procedures, new pilots can gain the critical communication "muscle memory" outside of the cockpit and the classroom…all in an accessible, affordable, and effective way.

The interactive environment of PlaneEnglish emulates the aviation radio and makes use of innovative speech analysis technology to give pilots realistic training and instantaneous feedback on phraseology, speech patterns, and radio proficiency. With a large database of actual airports and thousands of scenarios, pilots are sure to practice many of the in-flight radio calls they are likely to encounter when flying.

We want to help pilots overcome the trepidation and fear of talking on the radio and be confident and proficient when interacting with Air Traffic Control.

The PlaneEnglish Aviation Radio Simulator is available for iOS and Android on the AppStore and Google Play Store. Take a look for yourself with the free download and 7-day free trial and let us know what you think. If you are part of an institution and are interested in customization options and licenses, contact us!